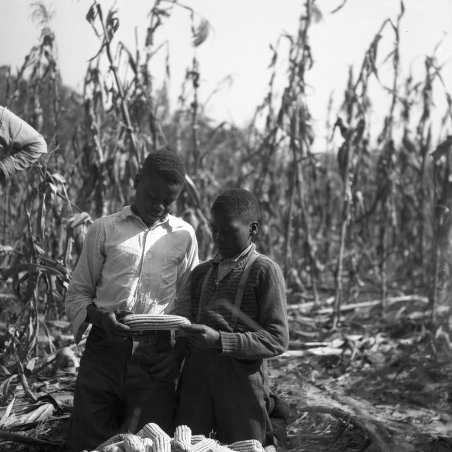 Early 4-H Corn Club members Absenia Johnson and Aron Johnson, of the Dawson 4-H Club in Scotland Neck examine their corn. The two brothers produced 80 bushels of corn on one acre. R.E. Jones took this photo Nov. 8, 1939.
With more than 237,000 young people between the ages of 5 and 19 participating, North Carolina Cooperative Extension's 4-H youth development program is N.C.'s largest organization for children. It got its start in 1909, when the U.S. Department of Agriculture joined with N.C. State to offer corn clubs and other demonstration programs.
That year, I.O. Schaub was named the first boys' and girls' club agent, and the first club for boys was formed in Ahoskie. The idea was that young people might be more willing to experiment with college-recommended farm practices than their parents, but that the parents would eventually try the methods if they saw their children succeed with them.
Within a year, by working with county school superintendents, Schaub had an enrollment of 4,000 boys and even a few girls in what then was called Corn Club work.